Our team at Freelance Topic just got off the phone with Clutch! They called our offices to tell us that we had just been named one of the top SEO firms! Hiring an outside provider is a smart business move in many ways, and hiring SEO firms is even more essential. That is why we are so honored to be one of Clutch's top firms for 2020. Top SEO Firms in Bangladesh
Clutch is located in the United States' capital city, just steps away from the White House in the District of Columbia. Their team of highly trained analysts takes the time to independently verify each and every client review they conduct, and then their editorial team curates and edits the content to present it in an easy-to-read format. When you're purchasing B2B services, Clutch.co is the premier name for B2B reviews.
That is why we are so honored to maintain a superb average rating on the company resource, Clutch! In a recent review, Jahangir Alam, the founder of Look For Idea, praised our web design and SEO development work for his blog website!
"They have a great way with communication!" – Jahangir Alam, Founder of Look For Idea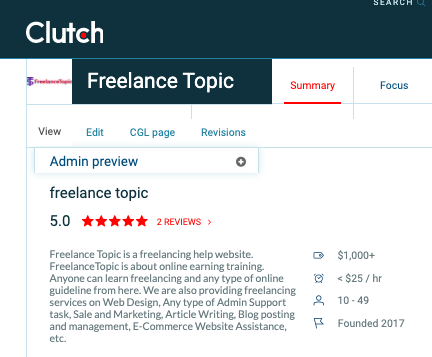 Thanks to other stellar reviews, we're listed as one of the leading firms in Bangladesh and a leading global SEO firm! We're incredibly grateful to Clutch and to all of our clients! Give us a call today to join our legions of satisfied customers! Top SEO Firms in Bangladesh